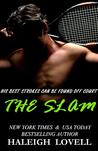 The Slam
by
Haleigh Lovell
My rating:
5 of 5 stars
Ok, so first let me say that The Slam by Haleigh Lovell is an absolute 5-star book for me. It's one of those rare gems that sneaks up on you with wonderfully unique characters all around and I truly feel it's also one of those rare books that the blurb has nothing to do with the book.
Bear with me, while I work through this…..
First, try to picture this - think a cute female version of Sheldon Cooper (Adelaide) from Australia meets the real book life Hemsworth brothers (Ender and his brother Endric) and yes, their last name is also Hemsworth.
Adelaide grew up with the brothers until they moved but the families have kept in contact. The brainiac Adelaide has decided to go to college where the brothers are also attending and they've been entrusted with Adelaide to watch over her. You see, she truly is a Sheldon Cooper and just as high functioning with Autism. She's also totally socially inept but strives to be normal while at the same time embracing her uniqueness.
What I love is that the brothers never treat her any differently, never make her feel like something is wrong. They love her the way she is and help guide her in her new life. Along the way she also makes some BFF's that are just as fun loving as the others.
This is a standalone book that will make you long for more and gosh I totally want that for Xmas Santa. It's a HEA for Adelaide and Ender with a supporting cast of truly unique characters that all have a wonderful presence on the pages and a strong voice.
I truly need a signed version of this book to add to my personal collection, I loved it that much!!! Instant fangirl ~
View all my reviews